Christmas at Saint Catharine Church
Behold, the virgin shall conceive and bear a son, and they shall name him Emmanuel, which means "God is with us."
Christmas is one of the most important days of the Church year, second only to Easter itself. It is the feast of the incarnation, the feast of God becoming flesh. It is a uniquely Christian teaching, the Divine choosing to become one of us. Every Mass is like Christmas where the bread and wine are transformed into His Body and Blood, and, in a sense, He is born anew on the altar, just as He was born in Bethlehem (Hebrew for house of bread).
---
Christmas Eve
December 24th
4:00pm - Holy Mass
6:00pm - Holy Mass
12:00pm Midnight - Holy Mass
Carols at 11:30pm
---
Christmas Day
December 25th
---
Please excuse the mess!
As construction continues For God's Glory at St. Catharine, the following entrances will be affected:
• Parking lot entrance on Fair Ave is closed
• Church entrance on the North side is closed
There is only one parking lot entrance on Bexley Park Rd and it will fill up very quickly.
See the map below as there is ample street parking on all surrounding streets:
• Gould Rd
• Fair Ave
• Bexley Park
• Brentwood Rd
• Broadleigh Rd
• Chesterfield Rd
PLEASE BE EXTRA MINDFUL TO NOT BLOCK DRIVEWAYS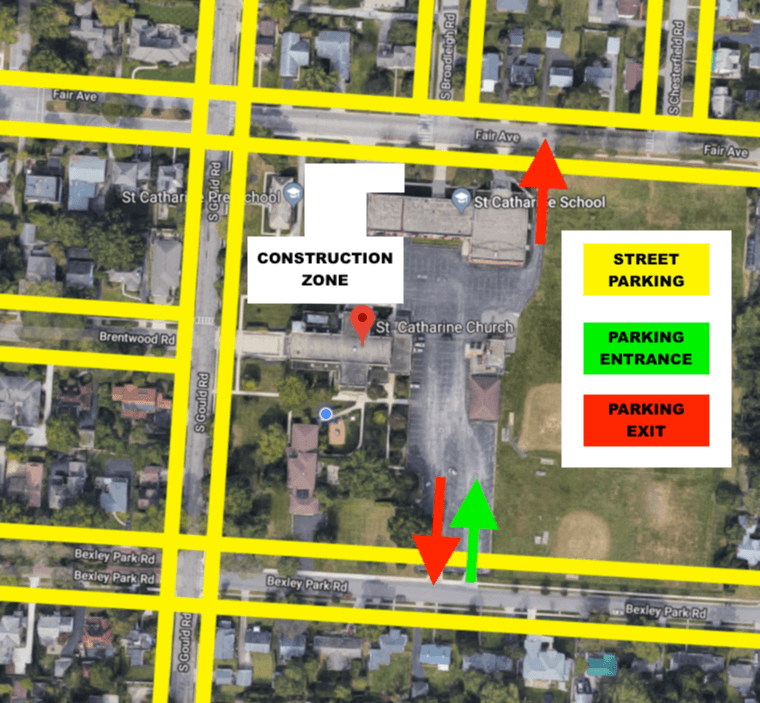 Visit St. Catharine
Mass and Confession times, directions, and what to expect at St. Catharine
Learn More