Live-Stream
Christmas Eve
4:00pm
6:30pm
12:00am Midnight
Christmas Day
Simulcast Overflow
In order to accommodate as many of the faithful as possible, each Mass will also be simulcast in the Parish Center and the Lower Level of the Church.
Please note that every other pew in the Church is currently roped off in order to facilitate physical distancing, and we are at less than 50% capacity.
Chairs will be set up in physically-distanced pods of three, four, and five so that families can sit together (see pictures below).
If you need more chairs for your pod simply slide them over from a pod next to you, or from one of the stacks against the wall.
If you are not using any of the chairs in your pod simply slide them to the pod next to you or place them in the stack against the wall.
Holy Communion will be brought to your seat by an Extraordinary Minister of Holy Communion, and there will NOT be a procession forward as is the case in the Church.
Remain standing to present yourself for Holy Communion. Be seated if you are not receiving Holy Communion.
The Lower Level will also have pods of chairs in front of the far TV screens.
A large portion of the Lower Level will be left open to act as a space for youngsters who might need to step out during Mass, as our quieting room is currently limited to one reserved family per Mass.
---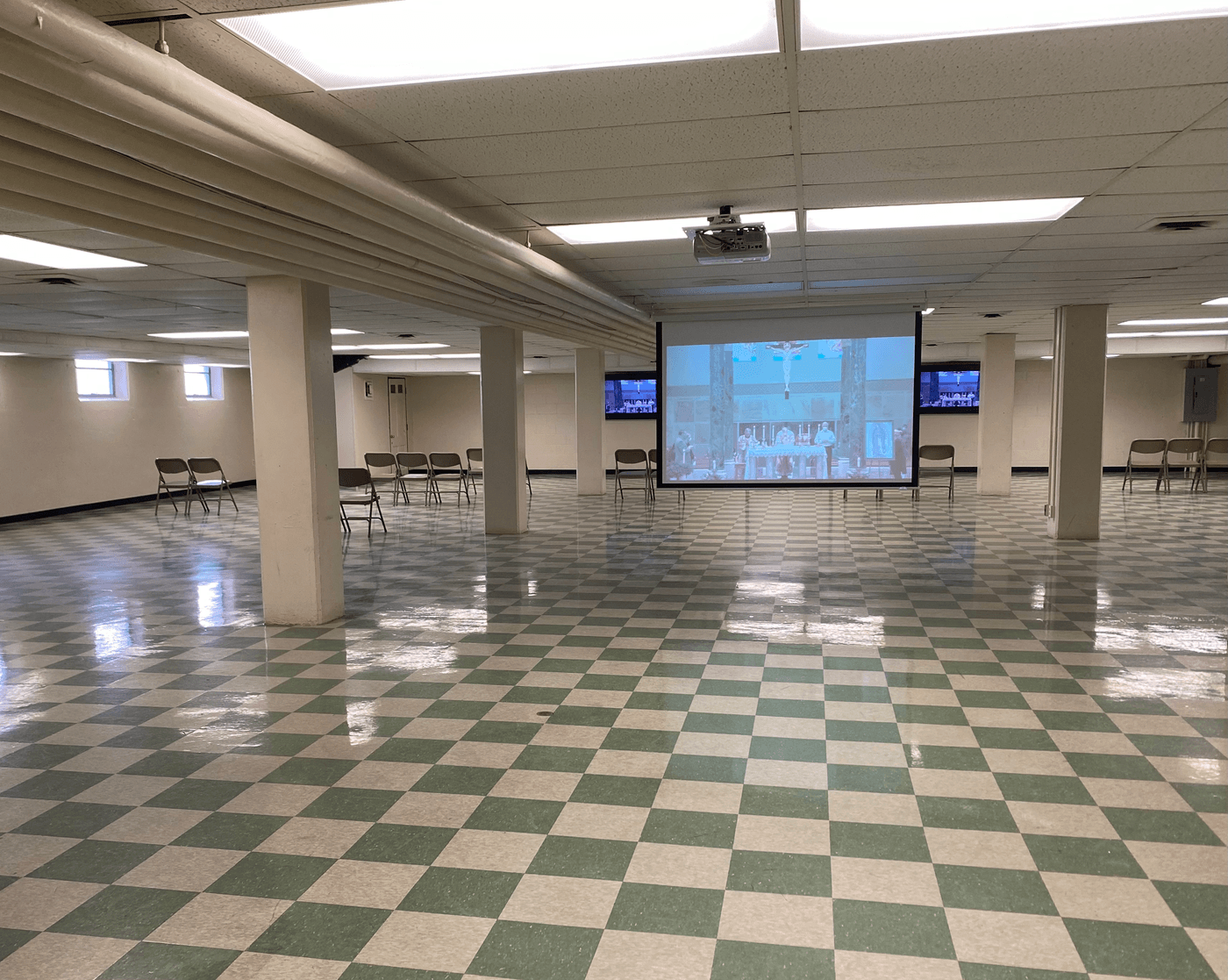 Christmas at St. Catharine
Behold, the virgin shall conceive and bear a son, and they shall name him Emmanuel, which means "God is with us."
Christmas is one of the most important days of the Church year, second only to Easter itself. It is the feast of the incarnation, the feast of God becoming flesh. It is a uniquely Christian teaching, the Divine choosing to become one of us. Every Mass is like Christmas where the bread and wine are transformed into His Body and Blood, and, in a sense, He is born anew on the altar, just as He was born in Bethlehem (Hebrew for house of bread).
---
Christmas Eve
December 24th
4:00pm - Holy Mass
Doors will open at 3:00pm
6:30pm - Holy Mass
12:00am Midnight - Holy Mass
Carols at 11:30pm
---
Christmas Day
December 25th
---